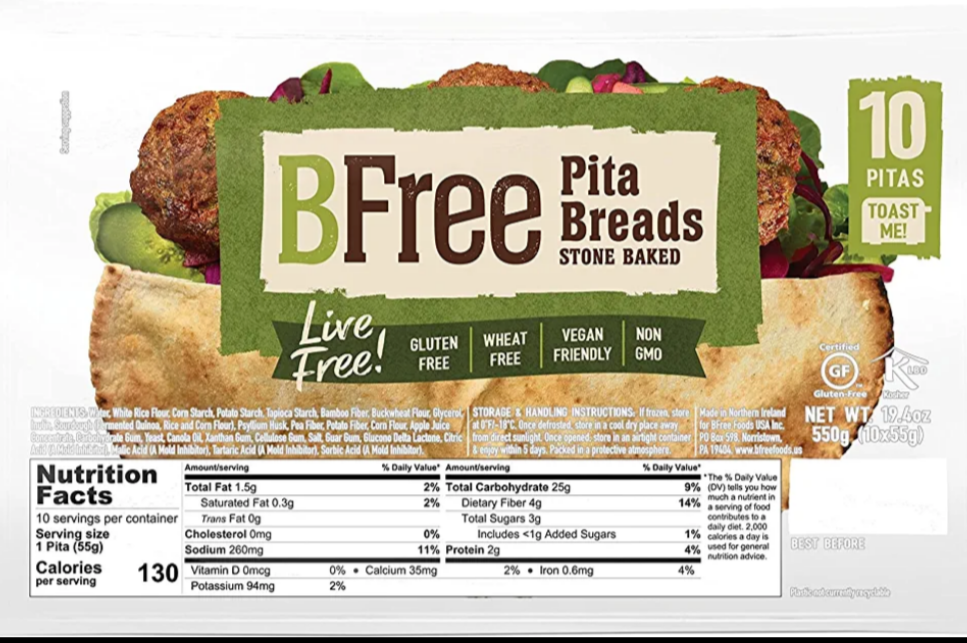 Market Favorite: BFREE Gluten Free Pita Bread, 10 Count (19.4 Ounce Total)
You'll Love Bfee's GF Pita Bread.  These Stone Baked Pita Breads are made with bamboo fiber and buckwheat flour baked in a wood-fired oven. 
Certified Gluten Free
Dairy Free
Vegan
Wheat Free
Non GMO
Nut Free
While Supplies Last!  Get Yours Today!
Ingredients: Water, Rice Flour, Potato Flour, Corn Starch, Tapioca Starch, Buckwheat Flour, Corn Flour, Chia Flour, Glycerol, Inulin, Bamboo Fibre, Apple Juice, Sourdough (Fermented Quinoa, Rice and Corn Flour), Pea Fibre, Psyllium Husk, Pea Protein, Yeast, Salt, Thickening Agent (Xanthan Gum, Guar Gum, Hydroxypropyl Methylcellulose), Rapeseed Oil, Raising Agent (Glucono-Delta-Lactone), Acids (Citric Acid, Malic Acid, Tartaric Acid). 
---
---
More from this collection